Probably my second favorite Kevin Costner baseball movie. I'm not sure that Bull Durham is a funny movie; I really don't remember laughing all that much. But who cares—I love it, and I too, like Crash Davis and Kevin Costner, believe in Bull Durham and the Church of Baseball. Bull Durham also stars Tim Robbin, Susan Sarandon, Trey Wilson, Robert Wuhl, and Max Patkin, the Clown Prince of Baseball, playing himself. Now considered one of the top sports movies of all time, it "works equally as a love story, a baseball fable and a comedy, while ignoring the cliches of each genre" (according to the review by David Ansen of Newsweek.
Written and directed by former minor leaguer, Ron Shelton (originally titled The Player to be Named Later)  Bull Durham pulses with passion for what used to be "America's game." Shelton played in the minors for five years, but quit when he realized that he was no longer a prospect and had little chance of breaking into "The Show." "I was 25," Shelton said. "In baseball, you feel 60 if you're not in the big leagues. I didn't want to become a Crash Davis."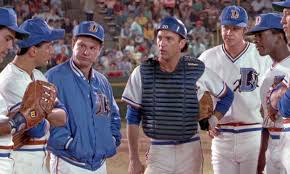 Bull Durham was named "Best Screenplay of 1988" by the New York Film Critics Circle, and contains one of my favorite monologues in any movie, baseball or otherwise:
Annie Savoy: Oh, where are you going?
Crash Davis: After 12 years in the minor leagues, I don't try out. Besides, uh, I don't believe in quantum physics when it comes to matters of the heart.
Annie Savoy: What do you believe in, then?
Crash Davis: Well, I believe in the soul, the cock, the pussy, the small of a woman's back, the hanging curve ball, high fiber, good scotch, that the novels of Susan Sontag are self-indulgent, overrated crap. I believe Lee Harvey Oswald acted alone. I believe there ought to be a constitutional amendment outlawing Astroturf and the designated hitter. I believe in the sweet spot, soft-core pornography, opening your presents Christmas morning rather than Christmas Eve and I believe in long, slow, deep, soft, wet kisses that last three days.
[pauses then winks and walks away]
Do you love Bull Durham as much as I do?  Watch the "What Crash Believes" scene here.