When I was a kid, I think I really liked Jerry Lewis' The Nutty Professor. I think. It's been a long time. But now? Not so much.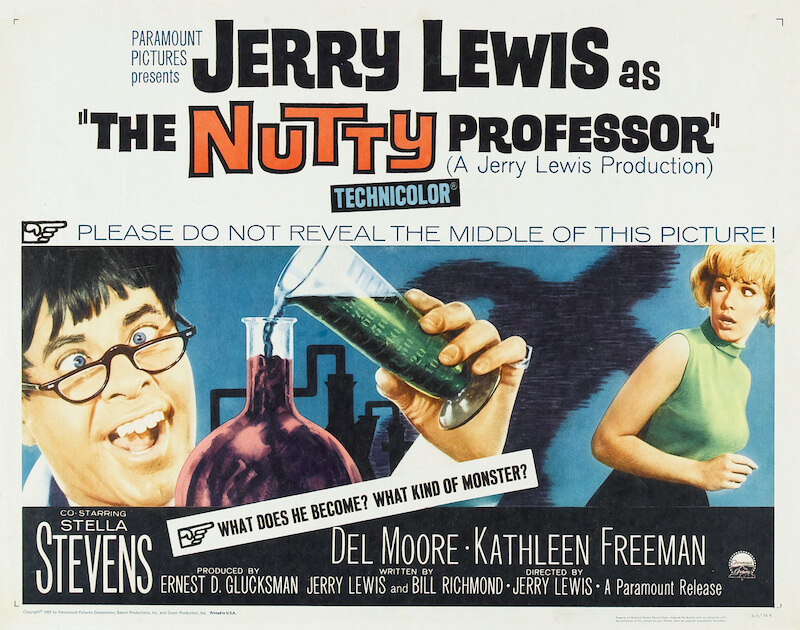 The Nutty Professor (1963), was produced, written (with Bill Raymond), directed, and starring Jerry Lewis in what many believe is his masterpiece. Maybe it is. But for me, I found the Professor scenes painfully slow-paced and funny only if you find false teeth funny. There's not much humanity or charm in Lewis' Julius Kelp character, which doesn't help make the romance between him and Stella Stevens believeable.
The more interesting character is of course Lewis as Buddy Love. There's a theory that Love is Lewis' satirical swipe at his ex-partner, Dean Martin. But if you ever saw Jerry's short lived variety shows, or his stints as guest host on The Tonight Show, or the many telethons, you might come to the conclusion that the handsome, self-absorbed, somewhat mean, cigarette-smoking Buddy Love actually is closer to Jerry than it is to Dean.
In his book, Cult Movies, Danny Peary contends that "the character of Love is actually the real counterpart of Jerry Lewis." He includes this snippet from an interview with Lewis:
"Lewis recalled, 'To this day, my children have not seen the film. It's the only film my wife won't permit them to see. And I said to her, 'Don't you want them to see my transformation, my best performance? And she said, 'No…I don't want them to see Buddy Love.' And this kind of shook me up and I said, 'You're telling me I did a very good job.' And she said, 'You did a marvelous job playing the worst human being I've ever seen in my life.'
(One other interesting bit of trivia: it was Henry Gibson's film debut.)
What did you think of The Nutty Professor?